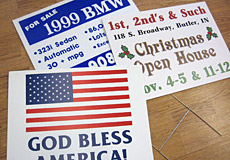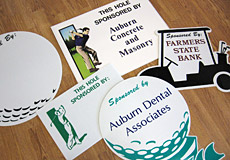 Yard signs are great and affordable way to get your message out quickly. Ideal for short term, Sign Pro' yard signs solutions are great for businesses, golf outings, school spirit , parties and more.
Yard Signs
With different sizes, shapes, colors and materials, there are many options available to you.
Stadard Size: 18" x 24"
Custom sizes
Single and Double Sided
Different colors to choose from
Full Color
Corrugated Plastic
Small and large quanities
Paper signs available
Custom designed
Golf Outing Signs
What a great way to show off your sponsors help. Also great for identifying a contest hole.
Many different custom shapes to choose from
All colors available
Full Color
Individual sponsors added
Reusable for future outings
School Spirit Signs
Great for teams or individuals. Show your spirit with one of our many options.
Many sports and activities available
Customizable
Reusable